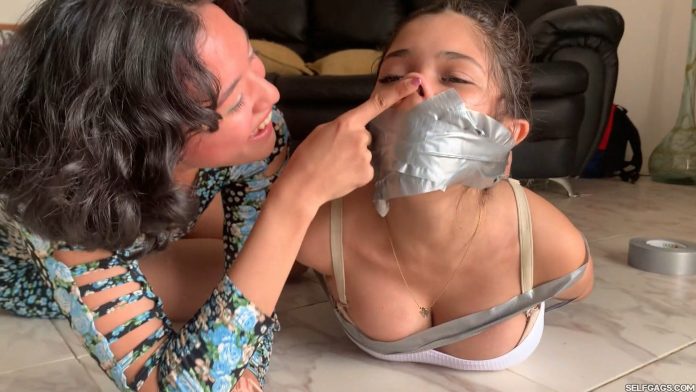 Struggling bondage brunette bound and gagged by her lesbian Latina Roommate
– sponsored by Selfgags
Stunning tall goddess Yurca comes home and finds her cute-ass roommate Alexa all tied up and gagged with duct tape on the couch.
Alexa is so relieved that Yurca is finally here to rescue her. Yurca peels the tape off Alexa's mouth and listens to her explain how a robber came in and tied her up. Yurca is most certain that Alexa is lying and that she must have been playing a kinky roleplaying game with her boyfriend.
Alexa becomes so mad and frustrated at Yurca's assumptions and eagerly wants her to untie her. Yurca takes off one of Alexa's stinky white socks. She clamps a hand over her mouth, and demonstratively flaunts the sock in front of her handgagged face!
After a long sock tease, Yurca stuffs it in Alexa's mouth and tapes her mouth shut with multiple pieces of silver duct tape put in the shape of a butterfly over Alexa's stuffed mouth. Yurca is super proud of how she has now gagged her sweet roommate who is then left all bound and frustrated.
Alexa struggles, kicks, and loudly whines as she tries to drag her squirming bound body over the hard tile floor when Yurca comes back in and takes an incredible power pose that instantly makes Alexa submit and obey the tall goddess.
Yurca turns Alexa on her stomach and starts the process of hogtying her with duct tape, connecting Alexa's tied ankles to her wrists with a thick and strong bind of duct tape. Alexa's other sock is removed from her feet and her dirty soles are tightly held together by a strong duct tape tie wrapped around her gorgeous feet.
Yurca wraps tape across Alexa's tapegagged mouth and all the way back around her ankles and over her mouth again to hogtape the little bitch who is held up by the duct tape and made to look straight out into the air! Then Yurca starts to tease little Alexa by tickling her feet, making degrading comments to her, and playing with her cute little piggy nose.
Alexa is finally left all hogtaped, stuck, and helpless on the floor in that super uncomfortable hogtie position that Yurca put her in!