Several years had passed since Jafar's demise, and Agrabah was enjoying a newfound era of peace and prosperity under the rule of Princess Jasmine and her beloved Aladdin. However, lurking in the shadows were remnants of Jafar's loyalists, guards who had once been loyal to the wicked sorcerer.
A Treacherous Plan Takes Shape
One fateful night, a clandestine group of these former guards hatched a dangerous rebellion plan. They infiltrated the heavily guarded palace, their footsteps muffled by darkness. Their target: the palace's treasure room, which held Jafar's most powerful relic—the magic staff. This staff had the ability to bend the very fabric of reality to its wielder's will.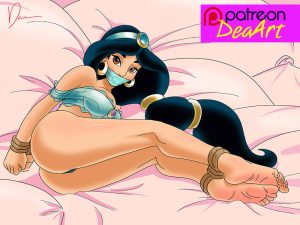 A Dark Transformation
Using the ancient power of the staff, they managed to corrupt the palace's surroundings, transforming them back into the malevolent influence of Jafar. The once-gleaming palace now stood as a sinister fortress of dark magic.

Jasmine's Determined Investigation
Jasmine, who had become an unwitting casualty of the situation, was shocked by the sudden change. Determined to uncover the truth behind this dark magic, she decided to investigate. Unfortunately, her curiosity led her right into the path of the treacherous guards.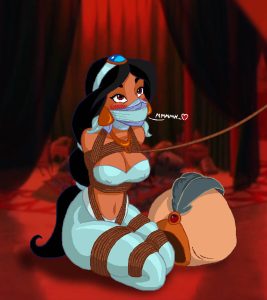 A Desperate Attempt to Flee
Panicking, Jasmine attempted to flee and alert Aladdin to the impending danger. But before she could make her escape, the rebels swiftly caught up with her. They overpowered her, rendering her powerless to resist their sinister intentions.
Bound and Gagged 
The guards wasted no time, binding her tightly with ropes and gagging her mouth with a cloth to stifle her cries for help. Jasmine's heart pounded with fear as she watched them carry out their ominous plans while she was all bound and gagged.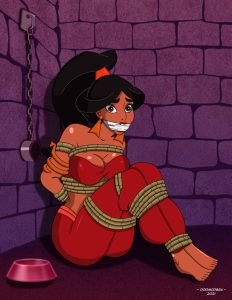 Sinister Intentions Revealed
"We'll deal with you later, princess," one of the guards sneered, a wicked grin on his face. "Right now, stay here, because we have some business with the Sultan." They laughed menacingly as they left Jasmine alone in the dimly lit corridor.
A Ray of Hope in Desperation
Desperation filled Jasmine's eyes as she struggled against her restraints, her mind racing to come up with a plan of escape. The ropes that bound her were impossibly strong, and the cloth in her mouth muffled her cries for help.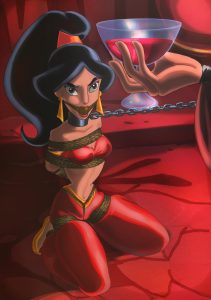 A Princess's Determination
As the gagged princess fought against her captivity in BDSM, Jasmine couldn't help but wonder what sinister plot the guards had in store for her and the Sultan. She knew she had to find a way to break free and warn Aladdin of the looming danger that threatened Agrabah once more.
But for now, all she could do was hope for a chance to escape the clutches of Jafar's loyalists and bring an end to their dark ambitions.