Rock, Paper, Scissors, GAG!
– sponsored by Selfgags
Mary and Anli are bored. Mary wants to find something fun to do with her friend and comes up with an idea to play a game of 'Rock, Paper, Scissors' in which the loser of each round must get a piece of duct tape put on her mouth. The girl who first loses three rounds must also be tied up by the other girl!
As the game evolves, it becomes a close run between the two sweethearts who both win and lose and therefore get their mouths taped shut. But Anli is the one who loses three rounds and so she gets tape bound by Mary who also remains tape gagged!
Once Mary is finished tying up the girl, she takes off one of her own stinky socks, removes Anli's tapegag, and flaunts the stinky sock at her. Anli demands to be let out of her bondage but Mary doesn't care about Anli's request and simply shoves her nasty worn sock in Anli's mouth while she still remains gagged herself!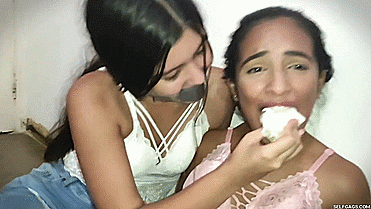 Mary wraps duct tape around Anli's sock-stuffed face, making her a nice and effective tape wrap gag. As soon as Mary has gagged Anli, Mary pulls her own classic tape gag off, drags one sock off of Anli's feet, and stuffs it inside her own mouth, right there in front of Anli!
Mary laughs as she gags on Anli's sweaty sock with Anli staring at her in confusion. Mary then goes on and gags herself by wrapping tape around her head similar to the way she has gagged Anli. Playful Mary hugs her bound and gagged friend, kisses her, and loudly gag talks at her.
Mary is having such a good time being gagged with bound and gagged Anli who doesn't seem to enjoy the game as much as Mary does. Anli is helped up on her feet and, with muffled instructions, told to jump out of the room. But Anli is hopeless and so Mary escorts the poor thing out of the room by making her hop along with her!