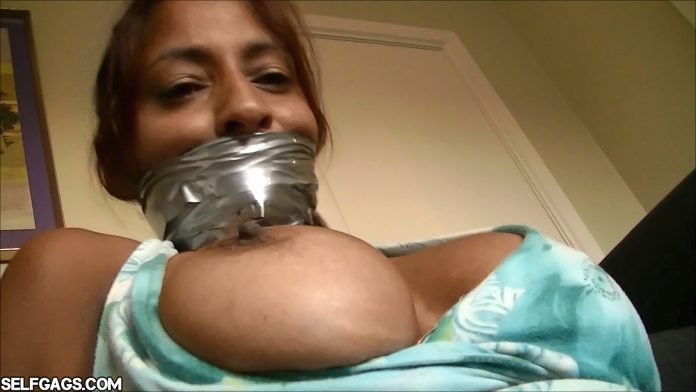 We Have Your Buxom Indian Trophy Girlfriend All Tied Up And Tape Gagged Tight!
– sponsored by Selfgags
Sexy Indian Shayla is a big-breasted trophy girlfriend in a relationship with an older rich American guy who's obviously dating her for her sexy looks only. It is doubtful whether Shayla's rich boyfriend cares about her enough to be out looking for her now that she's gone missing but Shayla sure hopes he is…
The busty trophy bitch is all tied up with strong and sticky silver duct tape on the floor in our hotel room. We have gagged her extremely tight with several layers of tape wrapped around her head to keep her quiet so no other guests will hear her.
Shayla struggles on the floor in her cyan-colored summer dress while she moans and mmpphs like the helpless damsel that she is. We even have her cute bare feet taped together to make any kind of escape attempt impossible for our big-titted prisoner.
We also free her big beautiful fake silicone tits from her gorgeous dress to fully take advantage of the situation and enjoy the view now that we have the chance!